Telling stories that inspire empathy, compassion, justice, and imagination to help build a kinder and more beautiful world.
Far from Home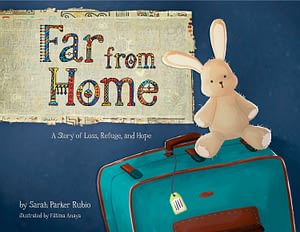 Follow a boy and his family as they say goodbye to their home and travel to a new land—and a new life—far away from all they know and love. Far from Home brings hope to an impossibly difficult situation and gives a face to the nameless millions who have been uprooted from their homes.
Click here to download a Far from Home activity for your family.
Available at:
A Family Prayer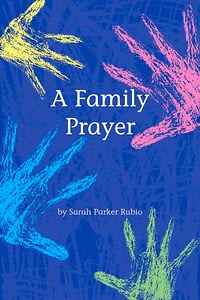 In a world that seems to change every day, this simple prayer invites you and your family to remember the One who "is the same yesterday, today, and forever" (Hebrews 13:8). Gather your little ones close and end the day with gratitude and rest in God for provision and protection.
Below is an audio version of this book, which Sarah wrote during the early days of the COVID-19 pandemic. A Family Prayer is illustrated by her kids, translated to Spanish by her mother-in-law, narrated in Spanish by her brother-in-law, and produced and scored by her husband. We hope it can bring comfort and peace to your family from ours.
Available at:
Autographed copies available in Sarah's Store:
The global refugee crisis is complex and overwhelming, but the people at the center of the crisis are just that: people, children, mothers, and fathers. With a compelling story and beautiful illustrations, Sarah Parker Rubio's Far from Home helped my children (and their parents) to think through issues of displacement and loss through the eyes of a young boy and points to the hope found in Jesus, who himself was a child refugee.
A fresh and inspired perspective on the refugee. Far from Home relates the experience of the displaced to a familiar story of the Christian faith that will resonate with kids going through major life changes.








Far from Home is a story of displacement through the eyes of a child, ultimately connecting us to the eyes of a God who watched his own Son suffer due to violence and conflict. It is the perfect way to introduce children to the realities of our current global crisis while maintaining the humanity of those who are most impacted. With beautiful images, this book is a timely experiment in having a holy imagination, asking all of us to consider what it feels like to be in need of welcome.
Sarah Parker Rubio edits children's and young adult books by day and writes them by night. She was born in the United States, grew up in Costa Rica and Ecuador, and now has a bilingual and bicultural family with her husband, Colombian composer Gary Rubio. They live in the Chicago area with their two sons, Gabriel and Adan; two sassy cats, Perry and Bono; and a giant white dog named Finn.
Sarah is always looking for ways in which books make our world kinder. She would love to share her findings and her thoughts with you. Please suscribe to her newsletter and welcome books for a kinder world into your home.